Podcast: Play in new window | Download
Subscribe: Apple Podcasts | Google Podcasts | Spotify | RSS | Subscribe to the Jamhole
"That's our relationship, in terms of quantum physics."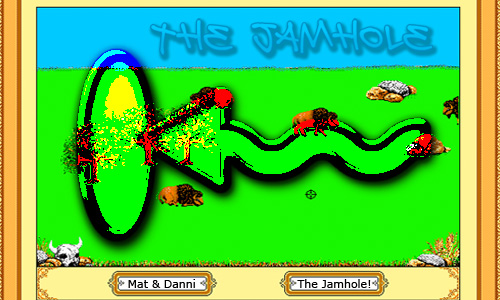 I know what you people come to the site for. It's all clear to me now. You want to read about what we discussed on the episode you stream right from the site. Why not throw in some pictures to make the text seem not so overwhelming? Ok, I can do that. We don't want the site to load slowly, so I'll try to keep it to a minimum on the main page, but we'll see if each episode can have something special that we can all relate to. Either way it should be something different. Here's the notes!

Even though we only do shows a couple times a week, if that, we are still up over 500 episodes. The schedule now is Wednesday and Sunday.  The best thing you can do is follow us on Twitter, the Facebook page, and Justin.tv. Only then will you know when the show actually goes live. Welcome to the first episode of 2012.
The Uhh Yeah Dude Seattle show was awesome. I took a couple videos while at the show. Check it out, then go listen to their full length footage of the show. Again I say, everyone we met and hung out with was totally awesome. UYD Nation rocks the cat box.
They've been saying it for years, but now the end IS near! Do you want to go on the End of the World cruise? Check this out. There is also an end o the world party in at the Kalispell Fairgrounds. Word on the street is Adam got DJ Irene to play. But sorry, I need to go explore ruins.
You can basically give us a buck if you go to thejamhole.com/getstitch and use promo code JAMHOLE. Do it, and do it now. You can listen to The Jamhole and The Hot Box on Stitcher smart radio. Get us dollars! Lots of dollars. Get Stitch, and get us dollars.
Here is our list of excuses why there hasn't been regular Jamhole episodes. First and foremost, the Transformer Prime. Oh, and also relationship problems. But mostly the Prime.
Is this personal enough for you?
Let's talk TV. What are you watching? Join us on Miso and follow what we're watching. I want to see Guido's go and be Axe Men. Reality Tv swap, patent pending.
What are your high points of 2011? Let's talk about how awesome 2011 was for us as human beings. By the by, did you find your glasses? I know, that's a low blow. High points included the Milwaukee trip, the Jamhole 525, the Rap Music Project, and being separated for a while.
Could you make sex more like Dance Dance Revolution? I bet then Danni would be more into it.
Don't tell anyone, but check out all the cool tech stuff I've hosted and produced. Shh, tell EVERYONE.
Congrats on the whole occupy movement. People have turned just hanging out into an activist movement. Straight up chilling it. Speaking of occupy, what are some of the most over used words of 2011? Let's talk about drugs, speaking of tiger blood. Is this even legal?
How convenient is this relationship to you? Now listen as I compare our relationship to the show, Hell on Wheels. Next up, I explain our relationship in quantum physics terminology. I'm told this makes perfect sense when you live in the quantum. This gets ugly, real quick.
This is our fourth year doing the Jamhole. We want to hear from you, the listener. What should we change in 2012? Something with the site? Something with the show itself? We want to know how we should evolve the show to better convenience our listeners. We're here for you! Email info@thejamhole.com and let us know, or you can text me at 406.848.1739.
Let me explain to you how to make this less awkward. Also, go listen to the Buffer Overflow Show. Heh, that's what she said. Don't pressure me into using the bell. Let's get personal again. It seems to be the recurring theme lately. Or always. For the record, I'm not that OCD, it's just gross. I still love you though. I mean fuck, we had a lot of tears this year.
Now listen as we smoothly turn the show into a Cher tribute. What do you know about Cher? Oddly, this is probably the more interesting part of the whole show. Here is the Cher Wiki page. Why do gay people dig Cher so much?
Have you ever seen Full Metal Jacket. Such a classic.
Let's announce the winner for the 2011 most helpful Jamholian of the year. And the winner is…. BERGER! Thank you, and congrats for being the best, most awesome helpful Jamholian of 2011. May you live long and prosper, so that you can continue to be the most awesome. Want to be the most helpful Jamholian of 2012? Check out the donate page and find out how.
Who wants to read a Craigslist? Who wants at least two men at once? The more the better. Thanks Cary Gary, who posted this in the chat.
Are you sick of seeing your boyfriend's ex girlfriend in your Facebook who do you know recommendations? Thanks Facebook! Also, please stop sending us Facebook app requests. We do not play games on Facebook. Only IRL.
The best state of 2011? Of course it has to be Florida. In other news, we know what the most annoying overused words of 2011 were, but what words should we start using more in 2012? Email us or use the form at the bottom of this page, or post on the forums to send in your suggestions.
Hey honey, have you seen my wedding ring? Oh yea, here it is, 15 years later. That carrot stole it.
Life sure has turned into a huge monotonous steamy pile of shit. Why? Because no one cares anymore. Clearly we have absolutely nothing in common. Is that so hard?
Another reason the elderly should not be driving. As if we needed anymore. This is kind of a freak occurrence, she was hit with the head of a dead dear another car hit. Yea, just listen, it's hard to explain.
Scientists grow sperm in the laboratory for the first time ever. Because you know, we're going extinct. So we better figure this shit out asap. Does anyone know why the bathroom is called the head? Danni heard it in Full Metal Jacket and neither of us have any idea why it's like that.
Maybe Baby.
The only reason certain drugs are in short supply, is greed. Blame the government, as per usual.
It's been fun, thanks for listening, and use our handy dandy sharing buttons right over here! Peace out.