Podcast: Play in new window | Download
Subscribe: Apple Podcasts | Android | Google Podcasts | Stitcher | Spotify | RSS | More
"They basically just do the same thing that you do, except they're good at it."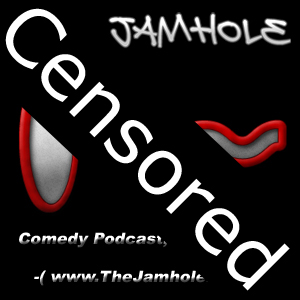 Here are the show notes, short, quick and to the point. I find sometimes I have a hard time being concise when I write these damn things. I'm going to make an effort to be more mindful of everyone's time, and try to understand better that not everyone has time to read full on essays about a stupid comedy talk show. That being said, I try to be complete, so no matter if you choose to listen to the show and follow along, just listen or just read, you get the full Jamhole experience. Are you experienced? History was made on January 18th, are you in the know? Do you even know what this fight is all about? Does it even matter? Who cares, just do what you came here to do, and read some show notes!

Here it is, the episode you've all been waiting for. Episode number 555. Very cool.
Let's talk about some Android love. What's up with the new Transformer Prime randomly rebooting? You can read more about this in my review. It should be up sometime this week. Until then, check out the issue on the XDA Developer forum. Update – We finally did get the update, but it only fixed a couple of things.
If you want your very own Android beanie, check out our friend Julie's shop over at HandMadeofAwesome.com
On Wednesday, January 18th 2012, the whole internet finally stood up for itself and said NO. SOPA and PIPA are ridiculous pieces of legislation that will do nothing to fix your alleged piracy problem. I'm glad to see so many sites standing up for what they believe in. This was history in the making.
Thanks to MDS for sending a whole box full of awesome. The books you sent are fantastic. As of my writing this, I just finished the book Zero Day by Mark Russinovich. If you want to see what I'm reading next, check out the book list.
Lyrickal calls in to talk about our Seattle trip and the Uhh Yeah Dude Seattle live show. You can see pictures on my Google+ page, and on TwitPic and the Jamhole Picasa Photo Gallery.You have to scroll down a bit. The thing about this is, they do what we do, only they are good at it. Thanks for summing that up Lyrickal. It was very impressive how UYD packed the fucking house. That was awesome. It was also cool to meet some of the UYD Nation.
This is what owning a tablet means to me. I basically fit in pretty good with the whole Seattle attitude thing. I should get a Peacoat and a scarf. That way people will know what to expect. Next let's talk about getting pulled over for allegedly doing 96 miles per hour. Yeah, the cop actually had his gun in our face. Probably because we're a bunch of bad ass rappers. Thanks for the call Lyrickal. Seriously, send my car charger damn you.
I'm going to use ear plugs so Danni can explain to you all exactly what the fuck is wrong with her. I simply can't hear this anymore and still find you attractive. I'm sorry. And a quick update from my arm pit, whatever that was is completely gone.
Can I please tell you how fucking fast 4G LTE is? Holy shit, it's so fast. I can't wait until we get it here. It will burn through a battery though, so you might want to keep that in mind. And now, the weather.
When was the last time you pleased me? I will go down on you as soon as you clean up your act, so to speak.
We have an interesting study that shows we have fewer abortions worldwide, along with an increase in unsafe abortions. Back alley style, that's your business Danni!
Maybe Baby. Follow what we watch, and watch with us! Check out the Jamhole on Miso. If you were already following us, you would know that season two of Shameless finally started. We'll talk more about what this means on the next episode.
If you have a doctor, he's probably racist. Yeah, that's pretty much all I got out of this study. Keep your body position open at all times, especially when dealing with white people. They are very awkward around the blacks.
Congratulations to the proud new mother of the baby who was birthed all over this Jersey train. Talk about the morning commute of fucking life! Thanks headlines.
What do you know about a 420 pounds of raw cow brains? These Egyptians will eat damn near anything right? I guess that's illegal or something? I'm more interested in inspecting boxes.
Who's going to be the most helpful Jamholian of 2012? Get your entry in now! Is the prize worth it? You know it is. Help us spread the word, we really appreciate it. Make sure to get your Stitcher app downloaded using the promo code JAMHOLE.
Also check out my author page on groovyPost, and listen to some of the tech shows we're doing. Also check out the Buffer Overflow Show.